Frequently asked questions
Hardware
Do lockers come with a warranty?
---
Yes, the lockers and locks come with a 5 year warranty. Details of that warranty can be found here.
---
Are lockers and locks weather proof?
---
Yes! Users can add video from YouTube or Vimeo with ease:
Enter App Settings
Click the "Manage Questions" button
Click on the question you would like to attach a video to
When editing your answer, click on the video icon and then paste the YouTube or Vimeo video URL
That's it! A thumbnail of your video will appear in answer text box
---
How do the locks work?
---
We provide you with instructional stickers to attach to lockers to ensure customers understand how to use them. These instructions are as follows: To lock the locker, enter any code and press the lock button (#) To unlock the locker, enter the code you have been provided and press the unlock button (#) As an owner or driver you will have a master code that is programmed into the locker to unlock any combination, or a master RFID key that will also unlock any combination.
---
Can I install and uninstall easily?
---
If for any reason you need to reset your master key/code or replace a lock the locks can be un-installed and installed easily using the manual we provide.
---
Do the lockers require an external power or WIFI?
---
No, the lockers do not require external power or WIFI to operate. The locks are powered using AA batteries and require replacement every two years approximately - depending on usage.
---
Do lockers require assembly?
---
Lockers do require some assembly. It takes approximatly 30 mins per locker to assemble with an average competency.
---
Are there assembled options?
---
Pre-assembled lockers is an option but will cost an additional $100-$120 per locker in shipping.
---
---
Delivery and Support
How long will my lockers take to arrive?
---
Lockers within the US delivery is within 2-3 weeks. Internationally, locker delivery is within two months from the date of deposit. This is subject to shipping delays. We use the time in between to create marketing and sales materials, assist with software set-up and training and get you ready to launch.
---
What happens if lockers arrived damaged?
---
We have gone to great lengths with our packaging and distribution channels to ensure your lockers arrive without any damage. If your shipment is damaged during transit for any reason, your lockers will be replaced.
---
Do the lockers and locks have a warranty?
---
Yes, the lockers and locks have a 5 year warranty.
---
Can you supply outside the US?
---
Yes, we regularly supply lockers outside of the US.
---
---
Software
How complex is the software to manage?
---
Training is provided on software management from a driver / pick-up and delivery person, and an owner perspective. After set-up, there is only a small learning curve to learn how to operate the system.
---
Can I use my existing software?
---
If you do not have software or an existing laundry or dry cleaning business we can provide you with the software you will need to set-up and grow your business. However, the lockers to integrate with a range of existing point of sale systems. Please contact us to learn more.
---
How much does the software cost?
---
If you require a complete system set-up the cost is $100-$120 per month. If you are using your own point of sale system then usually costs are included or you may need to pay for an additional module.
---
Will training and support be provided?
---
Yes, software training and support will be provided.
---
---
General
How do laundry lockers work for customers?
---
1. Customers download your app, make an account and lock their garments in any open locker 2. Use the app or text their locker number to make an order 3. Receive a text and email once their order is delivered back to the lockers and ready for pickup An example of how the system has worked for us: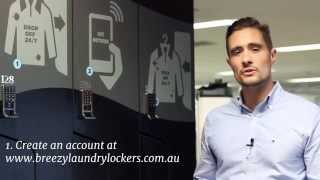 ---
How does the system work for drivers and owners?
---
For Drivers: 1. A driver will have a separate login to the app which will contain a pick-up and delivery manifest. The delivery route will generally be automatically created for drivers and will show vital information like customer name, contact information, locker address and locker number. 2. When a driver arrives at the locker bank they use a master code (programmed into the lock) or a master key to open the locker. 3. The driver marks the order as picked up and leaves the locker door open. To deliver an order the driver finds an empty locker and marks the customer to the locker and locks that locker with the code provided in-app. For Owners: An owner has access to an owners portal where can find detailed information about the operations of the business. This includes things like (but not limited to): - Number of orders and order location - Revenue figures - Driver and route information etc. Training will be provided for the software during set-up.
---
How can I calculate my return on investment?
---
If you install lockers in your store to automate pickup and delivery, then return on investment (ROI) can be calculated using the dollar value of wage reduction. If you use your lockers to increase your opening hours, then you should calculate ROI based off additional 'after hours' orders you receive. If you are installing lockers in other public and private locations, then your return on investment is determined by: 1. Speed to market (how quickly you can find and lock in good locations). To mitigate this speed to market risk, we have outlined several methods to find, pitch and secure sites in the risks section within the faqs. 2. Location of lockers within a building and if the lockers get foot traffic over time. When choosing a location, follow the guidelines in the risk mitigation section in this FAQ. 3. If your product matches your target market. For example, if you install lockers in a university, your core product is wash and fold, then your return will be better than if you only provide dry cleaning. There will be more demand for low-cost wash and fold in locations where customers have a lower disposable income. As a rule of thumb, the higher disposable income the demographic in a building or location, the more demand for all services. 4. How you present the lockers to your customers has an impact on attracting and converting customers. The more effective you are at doing this, the higher your ROI. As a part of our service, we give you a selection of 6-7 decal designs that we customize to suit your lockers to ensure optimal conversion. The average revenue generated from an apartment complex or office varies widely between $500-$3000 per month, with the above factors accounted for. Your return is dependant on your margin. If you are not cleaning the garments yourself with an existing business, then your margin will be more challenging to determine.
---
How do I find locations for laundry lockers?
---
The first step to finding laundry locker locations is to get a broad understanding of your target market and create a target list. We help do this by using web scraping tools to create a spreadsheet of apartment buildings and offices in your area. The spreadsheet will contain names and contact information of these locations to form the basis of your target list. However, if you are targetting shopping malls, supermarkets and universities, there are typically separate management departments with contact information online. Once you have created your list of target locations you must prepare your approach. It is important to present the service effectively to decision-makers and to and to have a professional online presence for credibility. To assist with this as part of the sales material we create for you, we include a pitch deck that contains a brief description of the service, benefits for residents, images of lockers, frequently asked questions and other information required by decision-makers. We also build a customised landing page (website) to suit your business. When you have the materials required to present the service, use your target list to systematically organise to visit the site. Once on-site, you will also learn more about the buildings demographic and potential. You will also be able to determine the necessary number of lockers and the position of the lockers within the building. If you consider there to be potential in a location, then you can present your offering to management and hope for the best. If the building agrees to trial, then we provide you with a legal agreement template that you can use to make it official. If you already have connections for sites, then half the battle is won.
---
How many lockers should I have per location?
---
Public locations like laundromats, shopping malls, and universities generally require more lockers (8-10 lockers with two compartments each). In small apartments or offices, you could start with fewer lockers (3-4) and add more as the service grows. Installing or removing lockers is a relatively easy.
---
What is the minimum amount of lockers I can purchase?
---
The shipping price is on average $55 per locker for ten and above lockers and can increase significantly with smaller quantities. If you require a smaller quantity (4-5 lockers), please provide us with your delivery information and locker requirements.
---
Is this a franchise?
---
No, this is not a franchise. We provide you with everything you need to set up your brand.
---
---
Risks
Inconsistent supply
---
If you do not control the cleaning part of the supply chain and subcontract either all of your cleaning or just wash and fold or dry cleaning, you risk a poor standard of cleaning delivered to your customers. To mitigate this risk, you either own your cleaning facility and maintain a high standard or ensure you have a good service agreement in place between you and your supplier/s and set up automated quality control processes.
---
Operational inconsistency
---
Suppose you are running an existing pick-up and delivery business and/or store. In that case, you will want lockers to integrate operationally as smoothly as possible and have one POS software system to book, track, and process orders across the whole business. Things like double booking risk lowering your ROI. To mitigate this risk, we either assist by setting up complete systems to handle all business areas or utilise your existing system to incorporate lockers.
---
Damaged lockers
---
We have gone to great lengths with our packaging and distribution channels to ensure your lockers arrive without any damage. However, if there is damage during transit, your lockers will be replaced.
---
Poor quality locker locations
---
If you do not follow our guidelines for selecting locker locations, you have a higher likelihood of not connecting with your customers, resulting in poor sales. To mitigate this risk, follow the laundry locker location selection criteria we provide to you during the set-up phases.
---
Lack of locations
---
If you do not have suitable locations in your neighbourhood or service areas, you will need to look at your market to determine demand. If there is demand in your market, you may need to start investigating retail locations like supermarkets, malls etc. To mitigate this risk, research your market to determine sufficient demand before investing in laundry lockers.
---
Lack of time
---
We provide everything you need to set up, market and operate your laundry locker business. However, if you do not invest sufficient time securing locations, setting up and maintaining your business, the ROI will decrease. To mitigate this risk, make sure to plan this project correctly and plan a portion of the time you or your staff members should spend on this business.
---
---